Apply For
BETA Hack 2023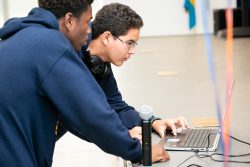 Once again, we are blazing the trail and setting the stage to create the largest pipeline of future technologists, engineers and scientists The Bahamas has yet to see. BETA is on the move and this year we are both excited and proud to reintroduce, BETA Hack. Our mission remains the same and with every program we're remaining true to inspiring and improving The Bahamas through collaborative efforts focused on STEM education, opportunities and problem solving. It's who we are not just what we do!
We have made it our mission to ensure that our country's potential that remains untapped is cultivated, curated and sustained by those who are homegrown. Those who are deeply connected to and impacted by the challenges we face as a country. If not us then who?
BETA Hack creates a space where data meets creativity. A space where students are challenged to solve problems by developing tangible solutions with the moderate to complex tools. Students will harness their abilities to work as team, think creatively and critically while understanding that no problem is too great to solve!
To learn more about BETA Hack, click here.
If you are applying as an Individual Application, then please use the individual applicant form instead: Individual Applicant Form
Date: March 4 2023 – April 1 2023
Venue: Virtual + Hybrid Closing Ceremony
Price: $50 p/ Participant
---